A TV channel asked me, "What did I make of the Modi-Trump meeting?"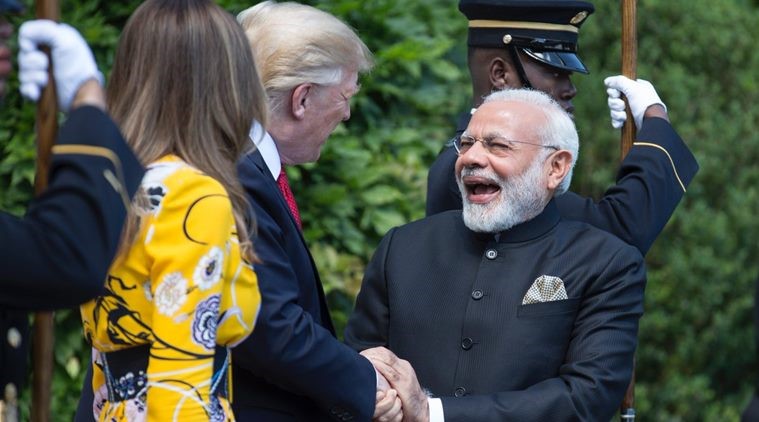 I gave my take based on what they said, their body language and some back ground information I had, as below.
When Modi alighted from the car, his and even Trump's body language (to some extent) was a language of mending the fences. When Modi cracked a joke, the laughter also seemed a bit forced and a bit overdone.
This was expected as the telecons prior to their meet hadn't gone too well. On the Indian side there were rumors that the PM had expressed his compulsion to resort to counter measures on any economically disadvantageous terms which were thrust upon the Indian side. The language was civil but the content was hard ball adversary. An approach which the American establishment was not accustomed to coming from India.
Moreover, following the telecons, came the news of Trump – Merkel fall out and the ensuing camaraderie between Merkel & Modi during the latter's visit to Germany, and subsequent meetings with other European leaders reminded one of friends ganging up against a bully.
To top it all, on the eve of the Modi-Trump meeting, China had publicized, its skirmish on the Indo-China border. A signal which could be interpreted in several ways. But none of these interpretations were likely to help India in it its run up to the meeting with Trump.
To fence with China, India wanted a non-hostile, if not friendly US.
Modi delivered his first publicly audible master stroke when while addressing the Press, he said that he remembers and cherishes the approval and endorsement which he and his policies received from Trump, through his comments in the media, when he visited India in 2014. Trump Grinned and nodded in acknowledgment.
In one sentence, by acknowledging that Trump's praise was important to him, Modi stoked Trump's ego, made it more difficult for him to go in for his characteristic, unpredictable U turns and set the tone for the meeting.
That was Modi's first Ace.
In the opening remarks he made when the delegations sat facing each other, Modi once again made a generous overture by ending his opening remarks with the words that the "world looks forward to your leadership (sic)".
This geniality was shirked away by Trump when he insensitively thanked his counterpart just for the military equipment that India had decided to purchase from US and assured him of the quality of these goods!
This was a what-have-you-done-for-me-lately-diplomacy. A Trump signature. Transactional & lacking social grace. We will never know if Trump had an alternate script. Was he just pressing the advantage he had gained because he read the reconciliatory stance of the Indian PM? In any case it seems that the ice had not thawed.
A lot of distance was surely covered in the meeting that followed.
In the public Address Trump spoke very highly of India and of the policies which India is following likening the reforms which he was undertaking in the US similar to those which Modi had initiated in India. The ice had been broken. The Chemistry was working again.
Post the address Modi initiated a hug. Which was reciprocated by Trump. More hugs and handshakes followed.
The Indian media was waiting for the hug and went ecstatic.
In times to come it might be better for it to tone down its elation a bit. Otherwise the PM will come under great pressure to hug fellow leaders. Western men rarely hug other men and do so only when they are dear friends.
In all the bonhomie, what was forgotten was the suppleness shown by the PM and I guess the other side too for mending the relationship.
It is indeed tough for a leader to attract different treatment than what was meted out to his predecessors. In Realpolitik, to change the equation to your advantage you need to create friction on the boundary of the relationship to redraw the boundaries. Sometimes you need to snarl and sometimes you need to flatter. In so doing you may misstep. Or times may change making a brilliant move of the past look like a blunder in the present. A wise leader knows how to retrace his steps, reduce tension, re-bond. Those leaders who can't make tactical retreats or who have limited behaviourial repertoires or those who can't disengage from their stereotypical images often plunge their countries in to difficult and untenable situations.
It seems from the US trip that we have a PM who can do all that. This ability is what should be celebrated rather than the hugs & handshakes.