If all his political colleagues started taking a strident tone, it would erode the aura of temperance that India is known for in the world.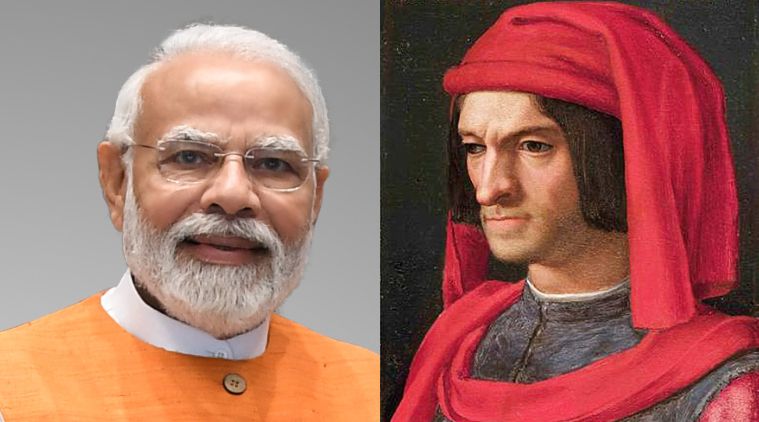 The Medici business family of Italy rose to prominence in the 14th and 15th century. They were well known for their banking prowess and are also credited for funding the renaissance in Italy through their patronage of art and philosophy.
But the Medician patronage of the arts was not random. It was thoughtful and targeted. Medici wanted to use art to advance the society.
Several philosophers and artists like Michael Angelo and Leonardo da Vinci were invited to live with the Medici family. (Some of the most evolved dialogues of their time happened in the Medici household). Fucino was one such philosopher, who lived with Lorenzo Medici and his family and guided them. Soon the Medici family believed that art should be used to educate. Art for them became a medium to advertise the great truths. A medium to conceive and propagate better ways for thinking about the present. A means to help overcome the shortcomings of the society. Since they didn't want art to be an uninspiring historical archive or a facsimile of the society but a road map for it, they were accused by puritans of adulterating and corrupting history and social reality.
Cut to July 2022 when critics fumed about the representation of the lions atop the new Parliament building in Delhi. That it violated the design of the state emblem. That the original Sarnath lions were calm and composed. Rendering them ferocious and aggressive amounted to undue interference with the state emblem. Perhaps they did not realize that this is just one more stroke in the cultural spruce up that Modi seems to have in mind. Modi like the Medicis doesn't mind tweaking the myths, if this revision would rejuvenate the society and help it overcome its short comings. In fact, his camp contends that the myths were adulterated by the invading oppressors, and he is just filtering them back to purity. The overwhelming likelihood is that they are right.
Under him an assertive country is taking birth. He is letting go of no opportunity to craft an identity which helps offload the burden of a subservient past and centuries of enslavement. Be it the change in the emblem or the establishment of the statue of unity, he is promoting traits which we were considered to lack and backing forces which masculinely took up for India.
I heard a famous television anchor say the other day, "If you have to poison a society you need only to poison their stories." Modi is providing a cultural antidote to the pusillanimous narrative we were trapped in. He is helping India grow back its spine.
Guru Gobind Singh did the same for Sikhs. Since 1945, so did the leaders of the Jewish state of Israel. Since time immemorial Jews were thought of as a cowardly race. Browbeaten for centuries by Mesopotamia (Iran) and Egypt and in the last century by the third Reich.  Their timidity was part of folklore. Post the second world war their leaders went to work on their   psyches and on their impression in the world. And 75 years since, it is difficult to believe, that this land was infamous for its faint-heartedness, given how fiercely and steadfastly they have guarded their territory & interests.
Modi is using art, architecture and culture to underline a grander identity. In my book on Chanakya's political wisdom, I said Is baar Desh ko sone ki chidiya nahi sone ka baaj banana hai (India should not be a golden bird but a golden eagle this time). In the centuries that it was rich, India was known as Sone Ki Chidiya (The bird of gold). Given its subjugated past and given the images of weakness and vulnerability which the word chidiya conjures was that a good epithet? In my view, No. The chronicles of History attest how this bird of gold was ripped apart and looted by other more powerful, rapacious birds. This time India should aspire to be the golden eagle – none dare attack the eagle. Tijori hi nahi, uski hifazat ke liyen, top bhi zaroori hai (Treasure is not enough. You also need the cannon to guard it). You need a deterrence. Fortunately for the country, through our successful nuclear tests (particularly the one done in 1998) we got the deterring force and in Modi we found the confidence to express our strengths.
However, the expression of this strength is best left to him and his number 2 in the relevant domain. In foreign affairs he has an able number 2, in Minister Jaishankar. Both are consummate speakers, who weigh and choose their words well and are perceptive enough to counter unfavourable fallouts. Jaishankar did that at a recent press conference in Egypt, countering an impression of belligerence he may have created, by saying that he is not aggressive/assertive and alluding that all independent minded nations might think as he does and should speak up in a sane, sober and rational manner. Despite not mincing words, he also took another more statesmanly stance recently by saying that we are on the side of peace (not just uncaringly on our side). Notice, like his leader, how adroitly he is rounding off any rough ends his frank talk may cause. He will not let the world easily typecast him.
On the home front we similarly have Amit Shah, who as a communicator is becoming growingly adept. Both are more aggressive than Modi in their expression which gives Modi a chance to step in – if their assertion fails – as the more reasonable leader and negotiate. The charge that he doesn't groom a second line also starts losing its bite when you look at such number 2s.
That said, if all his political colleagues started taking a strident tone, it would erode the aura of temperance that India is known for in the world.
Moreover, the nation would do well to remember that just as expression of independence is necessary to convey sovereignty in decision making, signaling willingness to team up and amiability is required for partnerships. Some should guard and others should welcome. Fierceness should go hand in hand with affability.
Na ho etne naram ki koi bhi chaba jaaye aur na ho etne garam ki koi bhi chhu na paayen 
(Neither be so soft that anyone can chew you out nor be so fiery or stuck up that people are wary of you).
It seems that Modi has acquired the ability to blow both hot and cold and yet not offend permanently those he reproaches, at least internationally. Till the whole of his second line can rise up to that level of ambidexterity, Modi's team should be split into the Garam Dal (Hot faction) and Naram Dal (Soft Faction). The former to guard our interests in the geo-political arena and the latter to welcome investors in India, handhold and reassure.
– Pavan Choudary