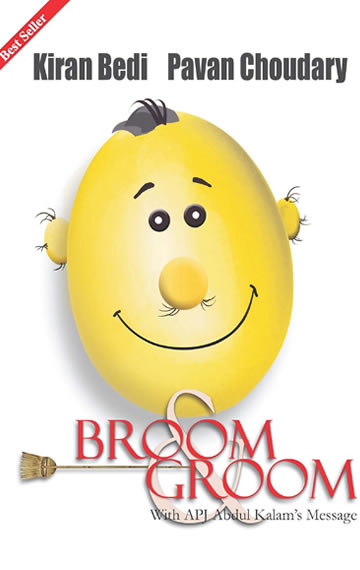 INR195
Publisher:

Wisdom Village Publications

ISBN:

9789380710013
Amazon
Flipkart
ebook - Newshunt.com
Understanding the urgent need to attend the area of lack in Manners, Hygiene and Ettiquete authors Kiran Bedi and Pavan Choudary have co-authored " Broom & Groom". This Best Selling book on Hygiene and Grooming comes with a special message from former President of India Dr. APJ Abdul Kalam.
Broom & Groom is not just a book. It is a finishing school and it will help the students excel at social interactions, distinguish themselves at interviews, and in interacting with the rest of the world.
Broom & Groom has been very well received by the media and public here making it a best seller in just six months since its launch. Understanding the importance of Grooming, many leading management institutes, schools and corporates such as Maruti, Torrent, several MNCs are patronizing this book. To help its message reach the masses its translations are readily available in various languages including Hindi, Marathi, Gujarati, Bengali, Telugu, Tamil, Kannada.
It is a ready reckoner on civility- a passport to the higher echelons of society.
Contents

Section 1: Grooming
Greeting appropriately
Handling hierarchy
Effective Conversations
Minding your Speech
Social Interaction Etiquette
Being a good Host – good House Guest
Dining decorum
Elevator etiquette
Mobile/Internet Must Dos
Staying at a hotel
Restaurant / Banquet Manners
Visiting the sick
Rules for queues
Auditoria or Airplanes Must-Do's
Parking Etiquette
Road manners
Living in condominiums
Working our at the gym or using sports ground
When you are the guest of honour/ member of the audience
Interacting with your Spouse
Interacting with your Domestic Staff
Interacting with foreigners
Being a good Teacher – good Student
Being a good  Government Servant
Section 2: Brooming
Rub, Srub & Trim
Day to Day Decency
Keeping government offices clean
Civic sense in offices and Public Places
Bathroom hygiene
Keeping your kitchen clean